Why is there currently such a high demand for cannabis drinks? 
The consistency of drinks' ingredients make it easier to precisely measure a dose than with edibles
They're the simplest method for microdosing, as many drinks have low THC and CBD doses
The effects of water-soluble THC don't linger in the same way as edibles, so the high is less sedative
Drinks don't carry the same taboo as smoking cannabis, especially with the older generation
Here, we'll explore some of the finest edible drinks currently on the US market.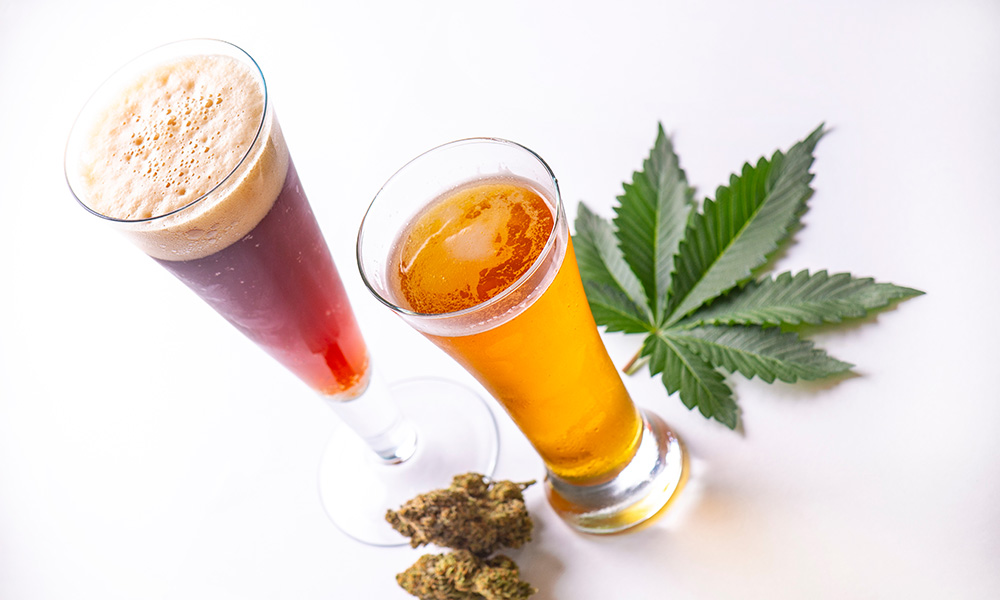 Legal Beverages
Legal Sparkling Tonics markets five serious flavors; a selection that could appeal to almost any adult. The Cranberry CBD is crammed with Long Beach Peninsula cranberries, whereas the Espresso Mocha features full-bodied espresso roast and dark chocolate. And its makers are not afraid to optimize the cannabis' effect, offering either CBD and THC, Indica, Sativa, or hybrid, depending on which flavor you choose. 
Lagunitas Hi-Fi Hops
Probably the most popular cannabis-infused beer yet, Hi-Fi Hops has zero carbs and calories. With a choice of three THC doses from less than 2mg to a powerful 10mg per bottle, you can take things anywhere from a microdose to a heavy evening session. And all whilst enjoying an alcohol-free, IPA-inspired sparkling drink from a brewery that knows how to use hops. 
Kikoko Herbal Teas
Kikoko focuses its potent brand of herbal teas around helping you with specific problems. Their Tranquili-Tea contains chamomile and nine other natural ingredients, including cannabis, to encourage sleep. Other teas in the range have different qualities, such as being an aphrodisiac, pain-reliever, or mood booster. 
Giant
Packed with an unusual selection of herbal ingredients, Giant's four beverages can help you achieve whatever mood you're trying for. Their Waking Giant contains Sativa and eight more energizing ingredients, including rooibos and yerba mate. Their Gentle Giant, on the other hand, will bring you down to earth with Indica, elderflower, ashwagandha, and other natural substances. 
Canyon Coffee
With 10mg of THC in each shot, ice-cold Canyon Coffee is a morning game changer, enabling you to combine the joys of cannabis and coffee. Brewed locally in Colorado, the ingredients list from their Drink IT coffee is reassuringly short. 
Artet
Did you ever think you'd read about a cannabis aperitif? Artet is leading the way, with the light floral, dry notes you'd expect from a classic aperitif and 2.5mg of THC in each 50ml shot. It makes sense when you think about it – if cannabis can give you the munchies, isn't this the best drink to have before a gourmet meal? 
Good Stuff Tonics
Good Stuff's beverages are best enjoyed by accurately dosing with the medicine-style cap that comes included, as there's 100mg of THC in each bottle. But if you're looking for a naturally sweet cannabis drink with high-quality ingredients, it doesn't get any better than these. The three flavors are Lemonade with Honey, Raspberry Iced Tea, and the intriguing Strawberry Hibiscus Lemonade.  
House of Saka
Although 'Pink' and 'White' are both alcohol-free, House of Saka's two limited production drinks are an infusion of grapes grown in the infamous Napa Valley and fine quality cannabis. This luxury brand meets the more refined cannabis drinker and provides them with a calming equal dose of CBD and THC. 
This is just a short list of popular cannabis-infused edible drinks on the market today. See what ASCENT Mammoth has to offer on their menu for your next refreshing dose.
Interested in making your own cannabis drinks? 
Edible drinks are only set to become more popular and even more inventive in the coming years. But they often come with a price tag too. If you're curious about making your own drinks instead, check out High Times' in-depth guide.